Penn Mutual Asset Management's outlook for stock and credit markets is cautious as we enter 2015. Slowing European economies, strengthening U.S. dollar and geopolitical pressures have caused us to become more concerned about near-term market performance. We expect European yields to remain low until any significant quantitative easing program is announced by the European Central Bank. The markets are overdue for a pickup in volatility and a correction.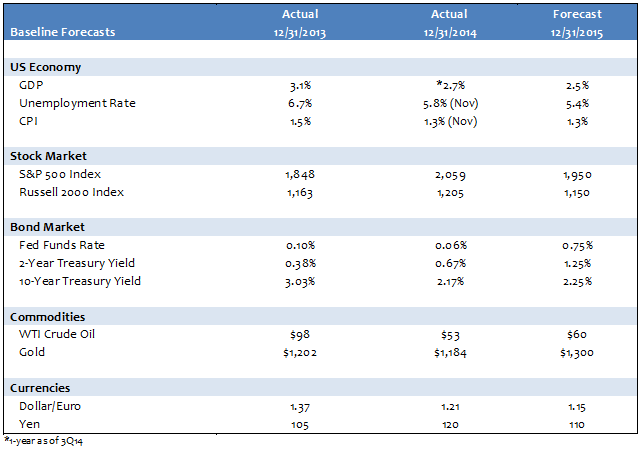 On the other hand, our overall 2015 forecasts for the U.S. economy remain constructive. Will 2015 be the year that Main Street outperforms Wall Street? Nonetheless, we have lowered our 2015 expectations for inflation (as measured by CPI), interest rates, stocks, and oil.
Penn Mutual Asset Management also believes the U.S. dollar will continue its strong performance based on the U.S. economy's relative outperformance. Continued weak energy prices and low global bond yields have tempered our expectation for any significant rise in U.S. interest rates. In the credit markets, we continue to favor riskier credits with shorter maturities relative to long duration exposure as balance sheets remain strong and corporate liquidity is high. We are poised to take advantage of any increases in volatility and spreads to buy attractive companies with strong fundamentals. In this environment, we plan to maintain portfolio duration at or above our target duration.
Index Definitions:
S&P 500 Index - An index of 500 stocks chosen for market size, liquidity and industry grouping, among other factors. The S&P 500 is designed to be a leading indicator of U.S. equities and is meant to reflect the risk/return characteristics of the large cap universe. Russell 2000 Index - An index measuring the performance approximately 2,000 small-cap companies in the Russell 3000 Index, which is made up of 3,000 of the biggest U.S. stocks.
Disclosures:
The views expressed in this material are the views of Penn Mutual Asset Management, Inc., (PMAM) through the quarter ending December 31, 2014, and are subject to change based on market and other conditions. This material contains certain views that may be deemed forward-looking statements. The inclusion of projections or forecasts should not be regarded as an indication that PMAM considers the forecasts to be reliable predictors of future events. Any forecasts contained in this material are based on various estimates and assumptions, and there can be no assurance that such estimates or assumptions will prove accurate. Actual results may differ significantly.
Past performance is not indicative of future results. All investments contain risks and may lose value.
Bond market
is subject to risks, including market, interest rate, issuer, credit, inflation risk, and liquidity risk. The value of most bonds and bond strategies are impacted by changes in interest rates. Bonds and bond strategies with longer durations tend to be more sensitive and volatile than those with shorter durations; bond prices generally fall as interest rates rise, and the current low interest rate environment increases this risk. Current reductions in bond counterparty capacity may contribute to decreased market liquidity and increased price volatility. Bond investments may be worth more or less than the original cost when redeemed. Currency rates may fluctuate significantly over short periods of time and may reduce the returns of a portfolio. Equities may decline in value due to both real and perceived general market, economic and industry conditions. Commodities contain heightened risk, including market, political, regulatory and natural conditions, and may not be suitable for all investors. Overall, the views expressed do not constitute investment advice and should not be construed as a recommendation to purchase or sell securities. All information has been obtained from sources believed to be reliable, but accuracy is not guaranteed. There is no representation or warranty as to the accuracy of the information and PMAM shall have no liability for decisions based upon such information. All trademarks are the property of their respective owners.