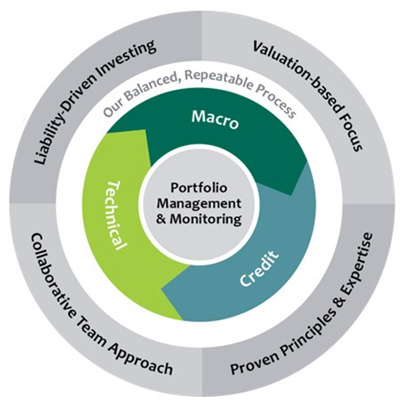 Penn Mutual Asset Management's investment philosophy centers on the belief that valuation is the source of superior returns. Related decision-making may also be optimized when executed through the lens of rigorous risk management.
This philosophy combines a top-down macroeconomic view with bottom-up credit view. It also considers the technical factors in the marketplace that influence pricing and performance. These three broad components -- Macro, Credit, and Technical (MCT) -- provide the analytical framework to execute strategic and tactical asset allocation, security selection, and position-sizing.
Each component of MCT is continuously defined and measured by its contribution to expected return and risk within the Investment Portfolio.
Top-down Macroeconomic View
A macroeconomic view drives decisions relating to risk weighting, positioning from a duration and curve perspective, and desired strategic asset allocation.
Focus on economic conditions such as growth, inflation, fiscal and federal monetary policy, major secular themes
Considers rate/real rate/ inflation, yield curve, risk premium, volatility/ skew/correlation
Bottom-up Credit Analysis
Credit analysis generates ideas surrounding sector allocation and security selection.
Focus on debt coverage ratios, leverage industry concentration, competitive position, capital usage, balance sheet strength, margin, growth potential and barriers to entry
Considers credit spread/spread curve, spread volatility, relative value to historical, relative value to peers
Technical Factors
The consideration of technical factors generates ideas related to the best instruments to execute strategies, and entry/exit opportunities.
Focus on relative and absolute levels of valuation in the cash bond and derivative markets
Considers drivers of pricing among fixed income assets caused by supply/demand imbalances, market sentiment and market positioning